Young Roots - Carrick Academy School Badge Project
Young Roots is a project also funded by Heritage Lottery to engage the young people of the town in researching their heritage. The project will be managed by the same partnership of local groups as "Robert Burns – where it began" and planned and carried out by pupils from Carrick Academy and Maybole pupils who attend Queen Margaret Academy in Ayr.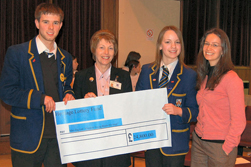 The two school captains from Carrick Academy attended the launch of the Burns Projects in March 2007 to receive the cheque from Heritage Lottery . The project will start in August after the school holidays.
For more information contact Kirsty Gallagher on 01655 883765.