Facilities Available at the One Stop Shop
Anyone living in Maybole and the surrounding villages can access the services and facilities available at Maybole One Stop Shop. The premises are at ground level with disabled access.
These include:
Internet Access - including wireless access


You can register with the project and log on for up to an hour and a half at a time.
If a computer is free, you can drop in, but if you want to book to make sure,
you can phone us on 01655 884032.
you can bring your own laptop and hook up to our wireless service, free of charge.


Meeting Rooms available to Hire


Small rooms suitable for appointments.
Larger meeting space - also available for evening and weekend use.
Please phone to make enquiries about booking.


Self Help Training Materials


We have a small library of self-help materials on a number of computer programs, including Word and Internet. Ask a member of staff for more information.


Family History Research Centre


Maybole Historical Society has located it's family history resources at MOSS to be used by any members of the public tracing their family tree. If you're not sure where to start, we can make you an appointment to meet a member of the society for help. We also have some materials to help you out.


Travel Connections Tickets


You can buy tickets and book journeys with Travel Connections at Maybole One Stop Shop. For more information about travel connections, or to join, phone 01465 716619 and ask for William or Tracy.


Wheelchair for Hire


In partnership with Ayr Shopmobility, we can now offer a manual wheelchair for hire. Your own chair might be getting repaired, or you might have a relative who needs one coming to stay. For a £25 returnable deposit, and £5 a day, or £20 for the week, you can hire a chair from us. All proceeds go back to Ayr Shopmobility.

If you would like to use any of the facilities, or have any questions about the project, please contact us.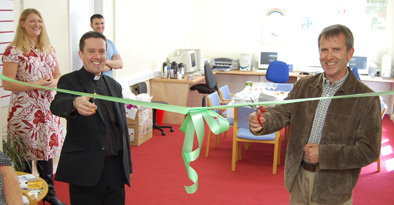 Fr Stephen McGrattan and Cllr Brian Connelly cut the ribbon
at the launch of Maybole One Stop Shop in May 2007