Latest News
Maybole One Stop Shop Closed
The project is now closed due a lack of funding. The board of May-Tag Ltd and local elected members are committed to trying to find a way to reinstate this valuable project, and are looking at a number of options to try to secure funding. In the short term South Ayrshire Council have offered a three month rent free period on the premises to give the Board some time to achieve this.
Maybole One Stop Shop to Close
Maybole One Stop Shop (MOSS) will close on Friday 27th February after being declined funding from the Big Lottery programme, Supporting 21st Century Life.
MOSS was originally an 18 month pilot funded by the local panel of the Fair Share Trust, administered by the Scottish Community Foundation, and after proving a success, funding was extended by the Community Foundation for a further 4 months while a bid was made to the Big lottery.
MOSS has exceeded all its targets set by Fair Share. In the past 18 months, more than 1000 people have registered as clients of the project, and between them they have made over 5000 visits to the offices to get advice and support.
More than a quarter of a million pounds has been generated for its clients, mostly as a result of supporting people to make applications for welfare benefits, and helping the most disadvantaged people in our area, particularly senior citizens, some of whom have had their income quadrupled by seeking advice from the project.
This has greatly increased the quality of life of these clients, allowing them to be able to pay for the care they need, buy equipment to support themselves and in some cases regain their mobility and independence, as well as giving them the peace of mind which comes with financial security.
Moss is also hosts outreach services which will no longer have a base in Maybole, including South Ayrshire Trading Standards, Ayr Housing Aid Centre, NHS Smoking Cessation and Community Health Addiction Team and South Ayrshire Care and Repair.
It also supports and provides accommodation for the Carrick Men's Group, Big Babies Toddler Group, Maybole Seniors Lunch Club and Seniors Forum.
Recently the project won £8000 from ITV's This Morning Christmas Appeal to transform the former Over the Rainbow premises to form a new Age Concern Centre in Maybole. The project was also supported by funding from South Ayrshire Council and Age Concern Scotland. The new centre now looks great, and it was hoped that the project would be able to support its activities with a dedicated Seniors Worker who would provide advice about a range of issues including Pension Credit, Attendance Allowance, Blue Badges and Winter Fuel Payments, as well as providing a link to national organisations like Age Concern Scotland and Help the Aged who can campaign on the behalf of seniors for better services. Unfortunately the closure of MOSS means there will not be any support for the new group.
In the past year, Maybole has seen the close of Signposts and Access, supporting people looking for employment and training, and the loss of the outreach service from North Ayr Resource Centre. Now, again because of the lack of funding, rather that lack of demand or need for the service, Maybole will lose another service, meaning that some of the most vulnerable in our society will be forced to travel to Ayr or Girvan for help, something that many of them will find difficult for financial, health and transport reasons.
The bid to Big Lottery would have seen MOSS welfare rights services being expanded to meet the increasing demand from people, and a new employment support provision, things which are being needed more and more in the current financial climate where more of our residents than ever are facing uncertain futures.
This Morning comes to Maybole One Stop Shop!
We recently submitted an application to TV show This Morning's Christmas Appeal, "Help the Elderly" to renovate the existing Over the Rainbow building, putting in a new kitchen, bathroom, heating and lighting to make it a brand new Age Concern Centre in Maybole.
On Monday, 17th November, presenter Steve Wilson visited us with a film crew, telling us we were one of 10 projects short-listed for consideration to win. We showed him around, and he spoke to some members of the community who talked about how the centre would be used , and how needed it is, hoping that we were making a good case for our cause, but you can imagine how suprised we were to be told at the end of the filming that we had actually won £8000, and were presented with a cheque there and then!
Then came the catch......
Steve and the crew will be coming back on the 10th December to broadcast live from our completed project!!
So, it's all hands on deck for the next two weeks to get a whole lot of work done in time for their return - all volunteers will be happily accepted - please get in touch with Gillian if you are willing to lend a hand, and look out for the broadcast of the filmed piece which will be shown on This Morning on 1st December, and the live broadcast on the 10th December.
New Outreach Facility within the Maybole One Stop Shop - Care and Repair - Thursday Mornings (Fortnightly) 10am-12pm
Care and Repair services offer independent advice and assistance to help homeowners repair, improve or adapt their homes so that they can live in comfort and safety at home in their own community. The service is available to owner-occupiers, private tenants and crofters who are aged 60 or over or who have a disability.
Halloween Fancy Dress Party at Maybole Town Hall
Jock Barr's family are hosting a fancy dress party to help raise funds for the One Stop Shop, in recognition of the contribution Jock made to it, and previously Over the Rainbow.
On Friday, 24th October, we will be getting our glad rags on and partying the night away to live music by "HiJack", eating a buffet and having a few refreshments at the bar!
If you would like to join us, please phone Cathie or Jakki on 01655 884032 to book your ticket, and don't forget to bring it with you on the night - it might just win you a prize.....!
See the poster
Pampered Chef Foodie Fundraising Evening
Come and join us on Thursday 2nd October at 7pm to see the new range of products from cookery enthusiasts' favourite, Pampered Chef. For £2 you can enjoy a glass of wine, maybe take part in our "Ready,Steady, Cook" style demonstration and help to raise funds for the project. Phone 01655 884032 to book your ticket.
See the poster
Community Gardening Event at Moss this Friday afternoon!
We are hosting a community gardening event in our new sensory garden at our offices on Friday, 25th July, from 1-4pm.

If you know anyone who would be interested in volunteering for a few hours to help us plant and prepare the garden, please ask them to contact us. No experience is necessary, and staff from BTCV will be running the event and providing support to volunteers.

There will also be a selection of organic veggies fresh from their plots at Auchincruive available to buy on the day.
New Editon of Newsletter Available Now
Catch up on what's been happening with us, and find out when outreach services are available with the latest edition of our newsletter. You can pick up a copy on the office, or view it online by clicking on this link. You will need Adobe Reader to view the file online.
Golden Oldies Movie Club Gets a Boost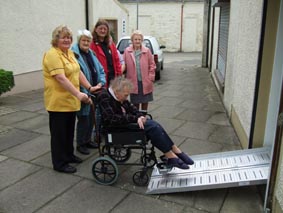 Do remember the good old days, and names like John Wayne, Cary Grant, James Stewart, Bette Davis and Greta Garbo?
Well, we're bringing them back to the big screen in a little way – with the Golden Oldies Matinee Club. The club meets in the Over the Rainbow premises in School Vennel, Maybole every second Monday afternoon at 2pm, and for just £2, you can come along, see a classic film, get a cuppa and some popcorn.
The Club, which is hosted by Maybole One Stop Shop, recently received a very kind donation of a mobile wheelchair ramp from Mobility Aid Services in Troon, which means that it is now completely accessible to anyone in a wheelchair or using a mobility scooter.
You can see residents of Fairknowe trying the ramp for the first time, before settling down to watch Seven Brides for Seven Brothers.
Anyone living in Maybole or the North Carrick villages who is retired is welcome to come along and join us. Look out for posters giving you details of the next four films that will be shown, or phone us on 01655 884032.